K. Jebaratnam
ir consultant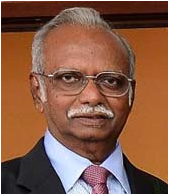 K. JEBARATNAM has served in the Human Resources Ministry for over 30 years in the Department of Labour and the Trade Union Affairs Department. He was the Regional Director of Trade Unions for Selangor, Wilayah Persekutuan Kuala Lumpur and Pahang before he opted out to join the private sector. As an enforcement officer in the Ministry of Human Resources, he has vast experience in enforcing the Employment Act 1955, Industrial Relations Act 1967 and Trade Unions Act 1959, conducting Labour cases, prosecutions and providing advisory services to both the employers and the employees.
As a Director in the Trade Union Affairs Department, under the Trade Unions Act 1959, he was responsible for the registration and administration of Trade Unions in Wilayah Persekutuan Kuala Lumpur, Selangor and Pahang. As a member of the MIHRM he has conducted various training programmes on Labour Laws for DIPM and DIR courses participants. K.Jebaratnam is a certified trainer by the Pembangunan Sumber Manusia Berhad (Human Resources Development Berhad)
After opting out from the civil service in 1995, he served as the Industrial Relations Adviser of the Malayan Commercial Banks' Association (MCBA), an umbrella body for all the Commercial Banks and Finance companies in Malaysia. He was involved in successfully negotiating and concluding collective agreements with the Nation Union of Bank Employees (NUBE) and Association of Bank Officers (ABOM). During his five years in MCBA, he has conducted training programmes including in-house sessions for Bank managers and officers on Labour Laws and disciplinary matters. During the consolidation of the financial institutions, has formulated guidelines to introduce Voluntary Separation Scheme (VSS) and Early Retirement Scheme (ERS) for implementation by member banks and finance companies. During his tenure in MCBA, he was appointed to the Industrial Relations Panel of MEF, a high-powered body to advise the MEF council on amendments to Labour Legislations and other related matters.
He is currently providing consultancy and training services to several corporate clients. He has successfully conducted in-house training programmes relating to Labour Legislations, Managing Disciplinary Matters at the Workplace and Handling Domestic Inquiry for Managerial and Executive staff of MBF Finance Bhd. (now- AM Finance Bhd.), Bank Simpanan Nasional, Bank Muamalat Bhd., Bank Islam Malaysia Berhad, Malaysia Airports Holding Bhd., EON Bank Bhd., Protasco Bhd., Royal & Sun Alliance Insurance (M) Bhd., Cagamas Berhad and as well as several public programmes.
K. Jebaratnam, with vast experience in the public and private sectors, provides practical hands-on and dynamic lively training sessions which has received excellent feedbacks from MIHRM course participants and Bank managers and officers.
His command of the Employment Act 1955, Industrial Relations Act 1967, and the Trade Unions Act 1959, the hands-on experience in handling employees in unionised environment, matters leading to termination of employment, conducting programmes in handling domestic inquiries and grievance handling as well as implementation of VSS and ERS are added advantages for the achievement of human resource development of any progressive and dynamic organisation.